axle ai browser front end makes remote media workflows radically simple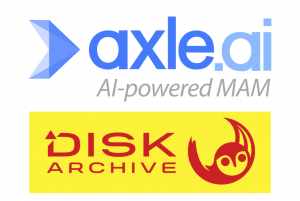 Axle AI and Disk Archive Logos
Axle AI, the leader in AI-powered media asset management, announces a groundbreaking partnership with Disk Archive, to be unveiled at Broadcast India, Booth F9
We're thrilled to be partnering with Disk Archive, as their solutions offer an environmentally friendly, cost-effective option for storing huge amounts of media on premise, rather than in the cloud."
— Sam Bogoch, CEO, Axle AI
BOSTON, MA, USA, October 6, 2023 /EINPresswire.com/ — Axle AI, the leader in Ai-powered media asset management and video solutions, is thrilled to announce a groundbreaking partnership with Disk Archive. This synergy introduces a new era in media management, presenting industry professionals with an affordable solution that melds Axle AI's renowned system with Disk Archive's advanced ALTO Archive technology. These bundles, priced at approximately $29,995 (bring your own drives), promise to redefine media workflows across diverse sectors.
The Power of Collaboration:
Axle AI and DAC have united to bring forth a comprehensive media management package that seamlessly blends the best of both worlds. Axle AI's AI-powered media search and asset management seamlessly dovetail with DAC's robust archiving solutions. The outcome is a revolutionary bundle that streamlines media management, enhances productivity, and trims expenses.
Key Benefits of the Bundles:
1. Cost-Effective: In a cost-sensitive industry, Axle AI and DAC provide top-tier media management without the exorbitant price tag. These bundles, starting at $29,995, deliver exceptional value.
2. Integrated AI capabilities: Axle AI's MAM software enables speech transcription, face recognition, object and logo recognition which can be run on premise, avoiding expensive cloud processing fees.
3.Streamlined Workflow: The integration of Axle AI's user-friendly search capabilities with DAC's archival solutions simplifies media asset management. Users can effortlessly organize, search, and retrieve media, elevating workflow efficiency.
4. Scalability: Designed to grow alongside your needs, these bundles accommodate small production houses and large media corporations alike. The flexibility of this partnership ensures scalability as your requirements evolve.
5. Security: Data protection is paramount in media. DAC's robust archival systems ensure the safety of your valuable assets, guarding against loss or corruption with Air Gap security and Physical Vault options.
6. Ease of Use: The intuitive interface of Axle AI and ALTO system minimizes training time, enabling even non-technical staff to adapt quickly and maximize productivity.
The Road Ahead:
Axle AI's collaboration with Disk Archive Corporation marks a milestone in media asset management. As media libraries burgeon, cost-effective integrated solutions become increasingly crucial. These bundles will serve as a cornerstone for media professionals aiming to streamline workflows, save costs, and ensure data security.
In conclusion, Axle AI's partnership with Disk Archive Corporation democratizes high-quality media management solutions. Priced from $29,995, these bundles empower media professionals with AI-driven asset management and robust archiving technologies. This collaboration signifies the commitment of both companies to empower the media industry with cutting-edge solutions. Stay tuned for further updates on how Axle AI and Disk Archive are reshaping media management's future.
About Axle AI:
We make media smarter. Axle AI is the industry leader in AI-powered media asset management software. Its solutions have helped over 1,000 organizations improve how they create, share, and store digital video content with easy-to-install, use, and afford media management solutions that leverage the power of AI and machine learning. Axle's radically simple media management uniquely addresses a burgeoning need and has caught on rapidly among video professionals in post-production, education, broadcast, corporate, sports, house of worship, non-profit, marketing, and government organizations worldwide. To learn more about Axle AI, visit: www.axle.ai. Press Contact Agustina Lopez Castro, +1 617-702-0943
[email protected]
About Disk Archive Corporation:
Disk Archive Corporation is a specialist supplier of Archive Systems for Broadcast Television, Media, and Film Preservation. ALTO is an enterprise-class, offline archive presented as a cost-effective alternative to cumbersome robotic data tape libraries, optical disk archives or power-hungry spinning-disk storage, on the Premises, in private data centers, and as a standalone Archive or as a Hybrid for cloud acceleration and cost reduction. Based on a scalable array of independently managed, fully spun-down disks, ALTO offers ultra-low power and AC consumption, double-digit disk life, and zero egress costs, guaranteeing the lowest lifetime cost of ownership and the highest security for media assets, from HD through to 2k and 4k resolution content in many of the world's most demanding and prestigious environments.
To find out more about ALTO, visit us at www.diskarchive.com
Press Contact at Broadcast India: Alan Hoggarth +44 7712 586543
[email protected]
Agustina Lopez Castro
Axle AI, Inc.
+1 617-702-0943
email us here
Visit us on social media:
Facebook
Twitter
LinkedIn
Instagram
YouTube
Other
Disk Archive explainer video


Originally published at https://www.einpresswire.com/article/660160126/axle-ai-disk-archive-corporation-game-changing-bundles-for-storing-and-searching-massive-media-archives